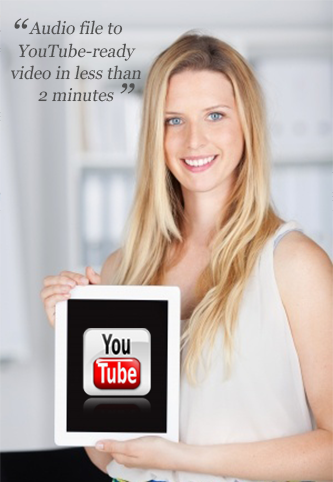 ouTube and other video sharing sites are some of the most popular sites on the World Wide Web.
Unfortunately for music lovers and musicians, these sites don't accept audio files.
For audio or music files to be uploaded to YouTube you must first make a video that incorporates the audio file. There are many software programs available for creating videos, some are quite sophisticated, expensive, and difficult to learn. Others are less expensive and simpler, but still require a modest learning curve.
SlideTrax is an inexpensive software program that is very simple to use. It effortlessly allows you to create a video using an audio file.
In fact, it is so easy to use that it almost completely circumvents any learning curve.
All you need to be able to do is Drag and Drop an audio file, image (picture) file, and add optional text - and then click the Create button. SlideTrax will make a video file (we call this a SlideTrak) that can be uploaded to YouTube and many other video sharing websites.

SlideTrax will create a video for you which we call a "SlideTrak". SlideTraks are compatible with YouTube and many other video sharing websites.
Regardless of whether you have a library of songs you'd like to share or a: speech, presentation, audio transcript, conversation, sound effects, oral histories, the sounds of nature, wildlife recordings, etc. , you can create a SlideTrak for any and all these.
Buy SlideTrax today – and start sharing your audio files with friends, family, and indeed the entire world. You'll be surprised at how quick and easy it is.
If you'd prefer to take SlideTrax for a test drive, just click the blue button on the upper right side of this page, next to the video, and we'll give you a fully functional, 4-hour demo of SlideTrax to try.
The only difference between the purchased version and the demo, is the demo will place a SlideTrax watermark on video created while running in the demo mode.
SlideTrax comes with a 100% money back, 90 day guarantee.
It runs only on Windows XP – Win 8) and it requires an internet connection for activation.